If you're looking for somewhere warm to vacation this winter I would highly recommend the beautiful island of Barbados.  It's located in the southeast area of the Caribbean and is an absolute must visit destination with the friendliest people you will ever meet.   This was my second trip to the island, the first occasion was on a honeymoon vacation, things were different this time as we had child in tow.  This proved to be a very different experience.  As there was less of an opportunity to explore, we found ourselves visiting some of the locations where we had been on our first visit.  This challenged me as a photographer as I wasn't going to take the same old landscape shot.  I had to be more creative, so that was my goal.  Hope you all enjoy the photos!
50th Anniversary of Independence
One of the highlights of our trip was the fact that we would be there as the island celebrated it's 50th anniversary of independence from Britian.  The island had special events going on throughout the week which ended with a fabulous concert at Kensington Oval.  We were pretty excited when the one and only Prince Harry came on stage as well as Bajan royalty Rihanna.  We left part way through the night to go tend to the kids, we found ourselves on an empty street when Prince Harry's motor cade drove past us – an exciting movement to top off our trip!
The Silvermoon Catamaran
On our first visit to Barbados, my wife and I went on the Silvermoon catamaran. We were so pleased with the experience we decided to do it again.  This time we opted for the sunset cruise.  As we embarked on our journey, menacing clouds began to form in the distance so our captain decided to head south to clearer skies.  Our worries of a rain soaked cruise quickly vanished as the weather changed in our favor.  A beautiful sunset greeted us as we anchored near the famous beach of the Sandy Lane resort.   Shortly after, our friendly crew served us an amazing dinner complete with jerk chicken, coleslaw, flying fish and macaroni pie.  It was definitely as good as the first time.   With many catamaran tours to choose from, the Silvermoon is a cut above.
Must See East Coast
The west coast of Barbados lies on the Caribbean Sea which is much calmer than the mighty eastern Atlantic. For this reason, most of the larger settlements and resorts are located on the western shores and thus visitors to the island mostly only enjoy the west coast. However I highly recommend renting a vehicle or signing up for a tour cause the east coast is absolutely breathtaking.  A stark contrast to the calm Caribbean sea is the rough waters of the Atlantic.  Filled with mountainous boulders and sharp rocks the shoreline is a sight to see.  The driving terrain can also be quite treacherous, it makes for quite an intense drive.  You'll come across small fishing spots and local fisherman out collecting sea urchins depending on the time of year you visit.  A tourist favourite there is the small community of Bathsheba which is home to the popular Roundhouse restaurant.  The food is absolutely terrific with the freshest seafood.  I indulged in a shark platter.  It was amazing!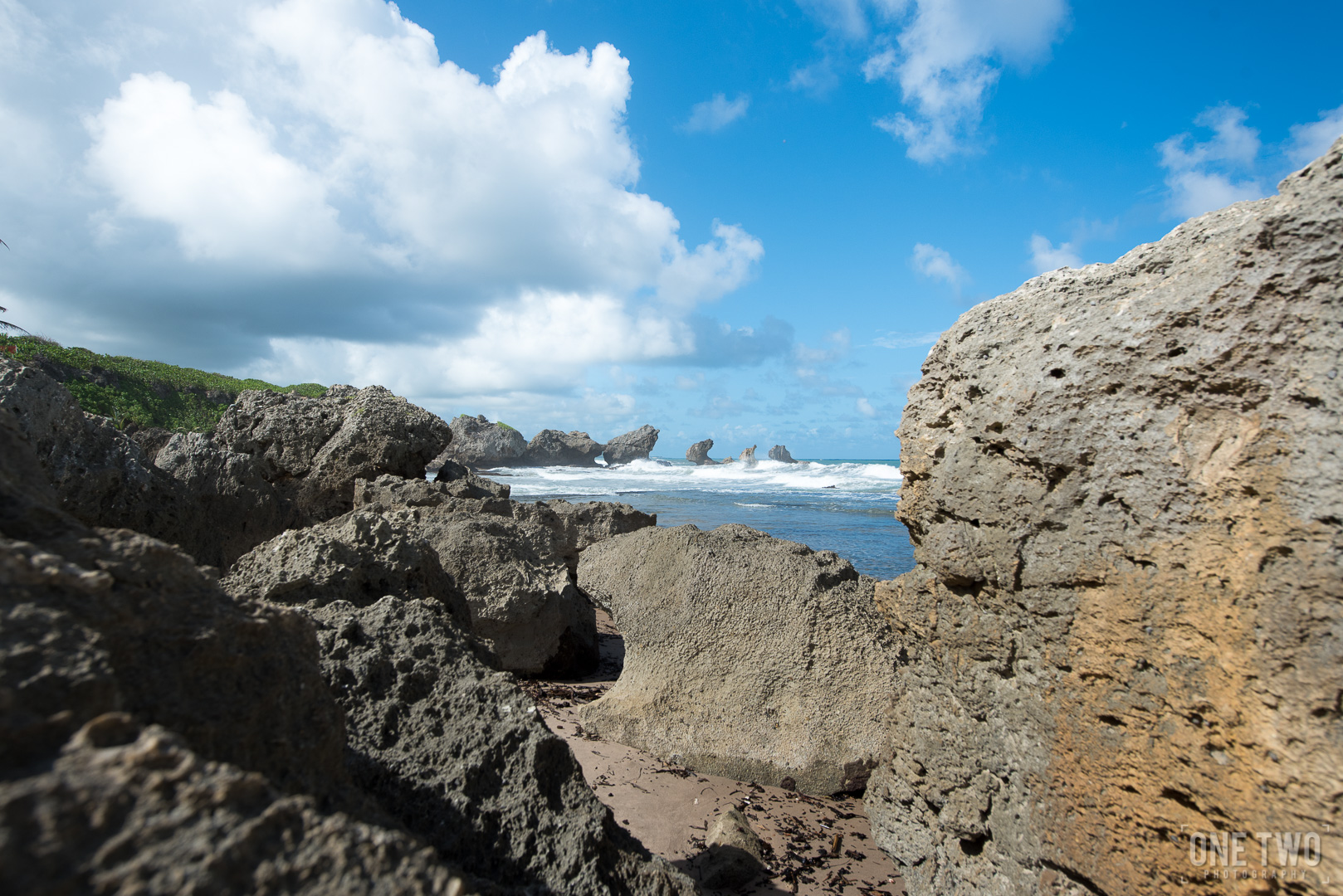 Picturesque Holetown
The small town of Holetown was actually the first English settlement in Barbados, way back in 1625.  Yes, it's that old, considering Canada just celebrated it's 150th it's amazing to think that Bajan history goes back almost 400 years.  If you aren't staying in Bridgetown, you'll most likely visit Holetown as it's close to all the northern resorts.  It has tons of shops, local markets and restaurants.  One of my favourite restaurants there is called Surfside.  A small beach bar located next to the police station – in my opinion some the best food on the island.  I'm not a fan of the ritzy expensive restaurants, although they are a treat sometimes, I can attest that the mini donuts and coconut ice cream at Lonestar are to die for.  There's nothing better than enjoying rice and peas along with BBQ chicken or fish on picnic table on the beach, it truly has a home cooked feel.

Another popular destination in Holetown is Mullins Beach Bar. It has an amazing atmosphere, live music, very friendly staff and of course directly on the beach.  And of course, the beach is breathtaking – like all beaches on the island.    We pretty much headed to Mullins on a daily basis, enjoying punch rum, their famous flying fish cutter and of course, macaroni pie.
Along the drive to Mullins, there are old churches, fish markets and tons of little rum shacks along the beach. One of the first day as I headed back to the resort I drove past an ocean side rum shack and out onto the water were anchored fishing boats.  The sun was setting with the most beautiful orange light causing a silhouette of a dozen boats.  That shot was magical, but with kids in the car I couldn't stop.  I figured I would get it the next day.  Well every day after that, either the sunset wasn't as magical or there were no boats or it just didn't look the same.  You can visit a location a thousand times but it will never be exactly the same.  That's why I fell in love with photography.  A photograph is literally is moment in time never to be recreated again.  It's what makes it challenging and yet rewarding at the same time.  If you want that perfect shot you have to be patient.  Different times, even a different time of the year will result in such a different landscape.  Thankfully on our last day of vacation, the sun gods smiled on me and I was rewarded with a sunset very close to what I had seen that magical first day.
The Barbados Wildlife Reserve
A must see attraction in Barbados is the Wildlife Reserve located in the northern parish of St.Peter. The Reserve is home to various animals native to the island.  Our adventure began on an old cobblestone path as soon as we entered through the opening gate.  We were very surprised to realize some of those stones on the path were actually turtles!  Being used to North American zoos, it's a pleasant surprise to be able to interact with the animals so closely.    There were multiple species of birds including peacocks, flamingos and pelicans roaming the grounds as well as native deer which do not look anything like your typical Bambi.  The cobblestone path winds its way through the forest eventually leading to a structure containing my not so favourite animals, snakes.  I can't really tell you what kind of snakes they had as I quickly walked past probably with my eyes closed.  However, if you're a little braver than I am and you venture past the snakes you'll get to have a look at some amazing iguanas.  In this area you'll also encounter the parrots along with a stunning hilltop view looking westward towards the sparkling Caribbean Sea.
Also located at the Wildlife reserve is The Grenade Signal Station. This is where we came across the hoard of monkeys.  They are free to roam the island so there's a bit of luck involved on when they'll show up.  But feeding time is generally a safe bet as these guys will never pass up a free meal.   They definitely aren't shy around people which make for a good photo-op.
The actual Signal Station is up what looks like a steep and treacherous but don't be fooled it's only a minute away and very much worth it. I was rewarded with breathtaking views of the island and I even learned a few things along the way.  As I walked up the tower stairs one can truly appreciate the history with the various displays depicting the former use of the station.  The tower was originally built in 1819 and was one of many signal stations scattered throughout Barbados.  These lookout points were used to warn of approaching ships, slave rebellions and were the perfect tool to quickly communicate information to various parts of the island.  The real magic is at the top where vintage wooden shuttered window deliver panoramic view of the magnificent east coast.  Learn more about the reserve here.
Quaint Old Speighstown
As I mentioned before one of the greatest aspects of Barbados is how open and safe the island is. One is not restricted to staying on the resort.  It is really easy and safe to explore the island on your own.  We did so on one day as we decided to visit one of the second largest town on the island, Speighstown.  I'm glad we did as it turned out to be one of my favorite spots in Barbados.  Located on the North West coast, Speighstown has tons of character with its rich colonial heritage and modern shopping amenities much like Holetown.
In Barbados all beaches are public, it doesn't matter if it's a large private resort, the public is welcome to swim at the beach. Just north of Speighstown is the Almond Beach resort which we took advantage for a quick swim to cool off as the sun was sweltering.  Following a quick swim we suddenly noticed the storm clouds rolling in.  If you ever check the weather prior to a trip to Barbados you may be disappointed to see a heavy dose of rain in the forecast.  Fear not cause on this island, yes it does rain every day, but it's only for about twenty minutes.  Those twenty minutes however are a downpour.   In the pouring rain we hustled back towards the town and took shelter in the first shop we saw.  It happened to be the Orange Street Grocer, a unique little bistro styled pizzeria owned by a British expat.  Definitely a happy accident as we had originally planned on having lunch at the fish market.  The pizzas were amazing, almost like we were in a bistro in Milan.