As a new photographer many years ago, I started out with that small and simple over the shoulder kit bag from Nikon.  It had it's purpose and held my brand new DSLR nicely and had a room for a few additional lenses.  But it wasn't long before I upgraded to a full frame and therefor much larger NikonD750.  My old kit bag could barely new camera, let alone any sort of lens. An upgrade was needed.
Over the years as my kit grew so did my need for a new bag.  Along with me gear, my style of photography has changed which required different styles of carry.  The several bags I've had never  really met my needs.  My last bag was the Lowepro Fastback.  It's huge, had tons of storage for incidentals and accessories.  It has side access which allows accessing the camera without having to take it off which is essential for me. However the camera section really only occupied half the bag and sometimes things got a little tight with some of the larger lenses.  The one main drawback which eventually led me to look for a new bag was that most of the time I was only carrying the camera and one additional lens, but I was still carrying this big awkward bag.  It just didn't make sense.  Often I would leave it at home and opted for the old kit Nikon bag.  There had to be a better way!!  I had an upcoming trip to New York City and knew I needed a better option.
I began researching online and was overwhelmed with the multitude of options on the market.   However there didn't seem to be anything that really fit my needs. I needed something compact but able to carry a decent load.  Everything out there seemed to be either large and bulky or too small. I also wanted to retain that side access feature.
My search finally led me to Peak Design.  A familiar friend as I am a big fan of their products.  I already own their patented Capture system as well as Slide which in my opinion is the best camera strap on the market.  Their attention to detail both in a design and aesthetic sense makes their products above and beyond anything out there.  They got their start on Kickstarter a few years ago when they had the most successfully funded camera bag in history, that being the Everyday Messenger.  They've been on a roll ever since.  A testament to their success was their most recent Kickstarter campaign a few weeks ago.  They were able to raise 1.3 million in 5 days!!!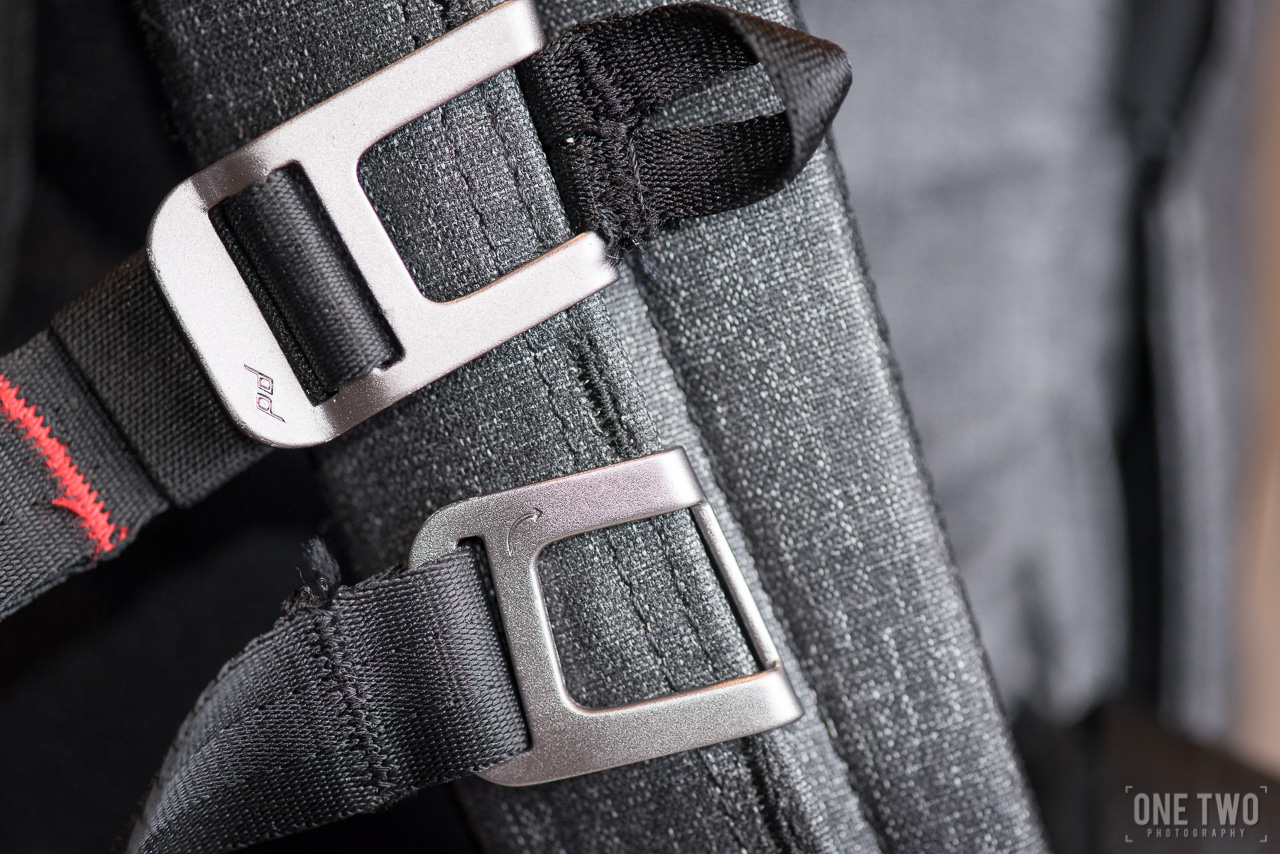 Peak Design currently offers a few choices in terms of carrying options.  The Everyday Backpack and the Everyday Messenger.  I originally purchased both of them in hopes of narrowing down the right option.  I'll start off by saying the Everyday Messenger was not for me.  Although I loved the slim profile and the top hatch access.  I found with a bulky full frame body such as the Nikon D750 and any type of large lens (I tested the bag out with the Nikon14-24 which is a beast of a lens)  I quickly found the strap to be weighing heavily on my shoulder.  This was only after a short walk, I couldn't imagine if I had to carry it all day.   This is definitely not a negative review of the Everyday Messenger, however I find it to be more appropriate for smaller DSLR's or mirrorless.
With that in mind I opted for the Everyday Backpack 20L.  I chose the 20L over the 30L as bulk was my primary concern.  Being 5'9" the 20 seemed to fit me just right and could easily hold the amount of gear I needed.  First impressions of the bag were the design was spot on.  The lines and shape were sharp, the materials were solid, the excellent stitching common with Peak Design products.  I tried out the bag on a day trip to the zoo.  Not once did I feel burdened by the weight.  The shoulder straps are able to pivot which lets them rest on your shoulders at just the right angle.  With the sternum strap attached it felt like the bag wasn't even there.  I decided this would be my bag for New York City. In this review I'll go over what I think are three of the key features that make this bag a winner for my needs.  This bag has obviously tons of features but i think this is what sets it apart.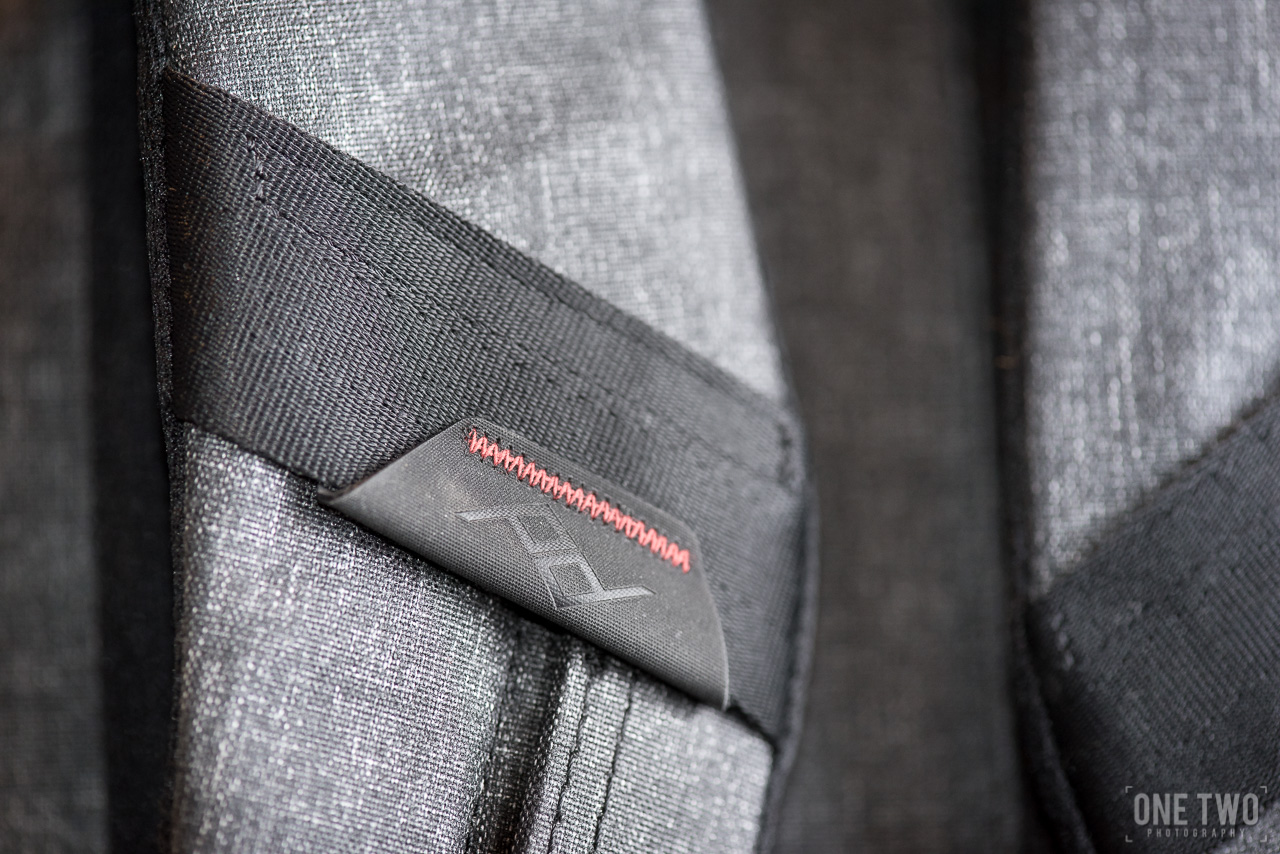 Introducing the FlexFold Dividing system
This is definitely a winner.  With most camera bags including my old Lowepro.  You'd have padded dividers attached with Velcro. You could position them the way you wanted but more or less the way you set it up was the way you were going to keep it.  This was a problem for me as depending what i was carrying.  The sections I had worked for one setup but came up short for anything else. It would work great if I had my large zoom on camera and a few small primes packed away, but if that changed, say I had a 50 prime on camera, those same dividers wouldn't fit the large zoom.  My other divider would be dedicated to a speedlight, but say if I didn't want to carry the speedlight well it didn't really fit anything else. This is where the Everyday Backpack breaks out.  Their system is based on shelves inside the bag and you can pack gear on the shelf and with a flick of a finger can either have a full shelf across the bag, or further divide the shelf into two or three.  You can have carrying space across the shelf or have what they call a pass through system where you can store gear across the height of the bag. This is great for tall objects.  I packed away a mini tripod perfectly. Whatever your gear setup for the day, it's absolutely effortless to rearrange and customize it.
Not just side access, double side access!
One of my main criteria for choosing a bag was I had to have access to my gear without taking off the bag.  If you're on the go, you don't want to have to stop, take off your bag, get you camera and/or change lens.  By the time you do that, the shot is gone.  With the Everyday Backpack, you get side access on BOTH sides. So depending on what kind of layout you choose, you can still access both sides of the bag without taking it off. Another very thought out design element which makes side access so effortlessly are the loops attached to the shoulder straps, with a simple pull you can tighten and loosen the shoulder strap making it much more easier to bring down to your side and access your gear.
No more bulky bags with the patented MagLatch
One of my pet peeves with other bags is that if you have a 20L bag, well your bag is gonna be the same size regardless of what you put into it.  Why would I want to carry a huge bag if I only had a few items?  Peak Design solves this problem with their innovative magnetic latch system.  The top of the bag folds open revealing the top shelf of the FlexFold system.  You can pack as much or as little gear in that top section.  What is beautiful is that there are four different levels where you can latch the bag closed.  Therefore, little gear, small bag.  Lots of gear, large bag.  It basically expands as needed.  The same theory is applied with the laptop/tablet pocket.  It doesn't take up extra room if its empty.  Once you put your laptop, that section expands into the main compartment.  The use of space has been thought out to every little detail with this bag.
But wait, there's more…
Another highlight of the Everyday Backpack is purely aesthetic. The charcoal ash really looks like a sophisticated backpack, not your typical black plastic camera bag.  The aesthetic and material of the bag is just as important as the function.  Peak Design puts a tremendous effort in making beautiful designs.  Part of this amazing workmanship is the entire bag is waterproof, no need to carry around that hidden water shell like most other bags.  This proved extremely useful as one day in New York was a complete downpour.  I walked around in confidence that all my gear was nice and dry.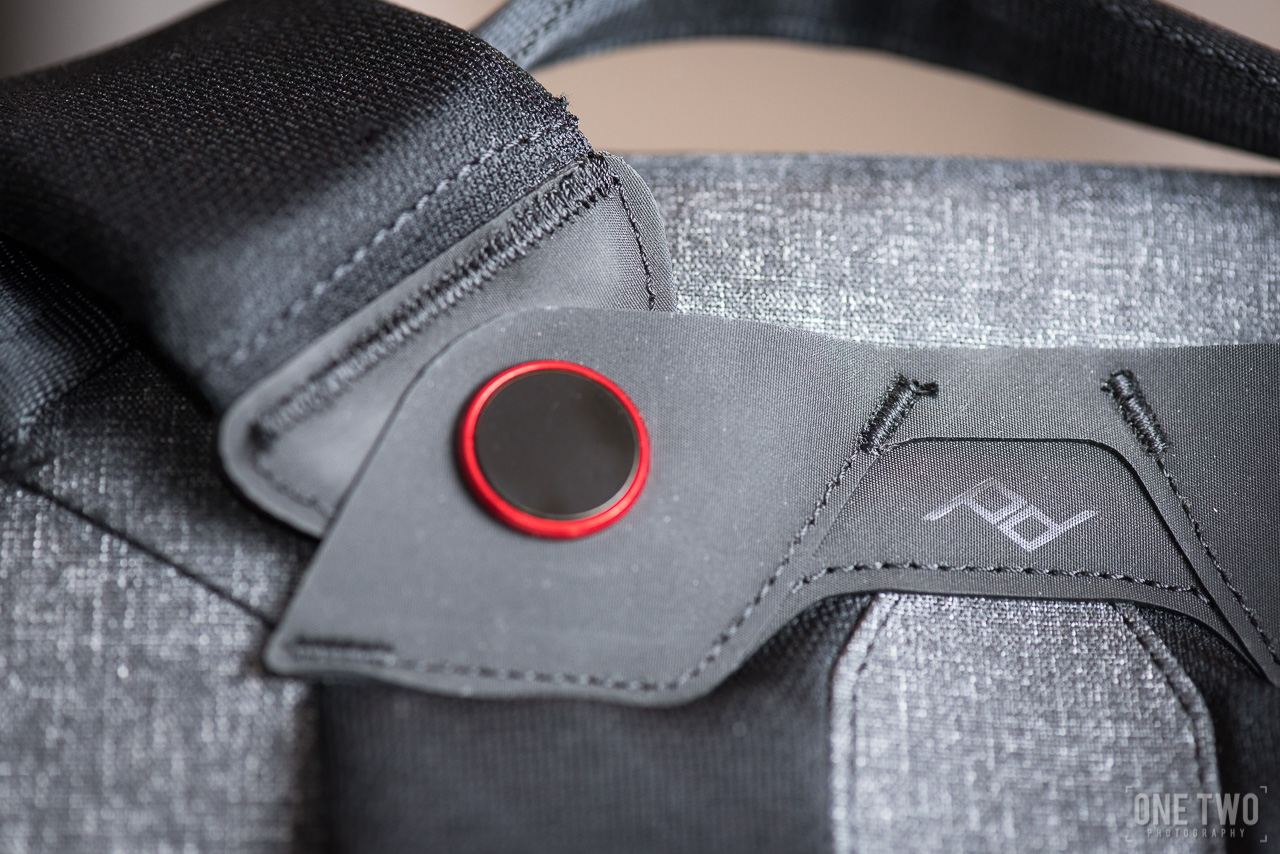 Another nice point was the use of straps.  Every strap on the bag has a place to go.  No more dangling straps all over the place. The sternum straps tucks nicely away on the shoulder strap and is easily taken on and off with one hand.  All other straps like the external carry, the waist strap tuck nicely in the side holders and bottom of the bag respectively.
My only real complaint is inside the side panels are sewn in pockets to carry things like extra batteries, memory cards, pens and whatever other accessories you want.  There is lots of space for everything but I found the little pockets aren't customizable and didn't offer many options.  But that's a very minor issue and the pockets function great.
For more information on Peak Design's Everyday Backpack please visit their site www.peakdesign.com