New York, New York | Travel by OneTwo Photography
Author: Dan Amyotte
Originally Posted: Monday April 30th 2018
I don't claim to be a street photographer.  I admire the craft but for many reasons it is not my forte.  I recently read an article on how to be successful as a street photographer.  The number one thing was to not be afraid, which is very true, people these days tend to be on the reserved side in public.  Could you imagine putting a camera in a stranger's face and trying to take a portrait. You can either a) get punched in the face.  b) get a really weird look or c) a natural candid photo.  C is probably the least likely scenario.  Being afraid of that unknown reaction is what keeps most street photographers at bay, myself included.   Most of the time I'm trying to snap a pic without anyone knowing, but that method which I consider spray and pray doesn't always work.  Sure, I get a few gems, and you'll see them here, but most of the time I'm not always happy with the result.  I'm too hurried to think about framing, composition or depth of field and trying to nail focus as well. 
I believe if someone wants to learn the art of street photography, New York City is the place to do it.  There's something about the buildings, the people, and the atmosphere that makes it so magical.  I think the key to being a good street photographer is to capture the pure essence of the street, the hustle and bustle of the city as it unfolds before your camera.  One almost has to blend in the background.    I learned that as I went along.  On a rainy Sunday night as people hurried along trying not to get wet, I stopped at the busiest intersection in the world, Times Square, and just stood there. After a while, people didn't notice me anymore and Ii was able to make better decisions with my photographs. Once you lose that fear, you feel less pressured. That's when the magic happens.
For this trip I tested out my new Peak Design Everyday Backpack.  I was impressed with it every step of the way and it never let me down.  Check out my full review here.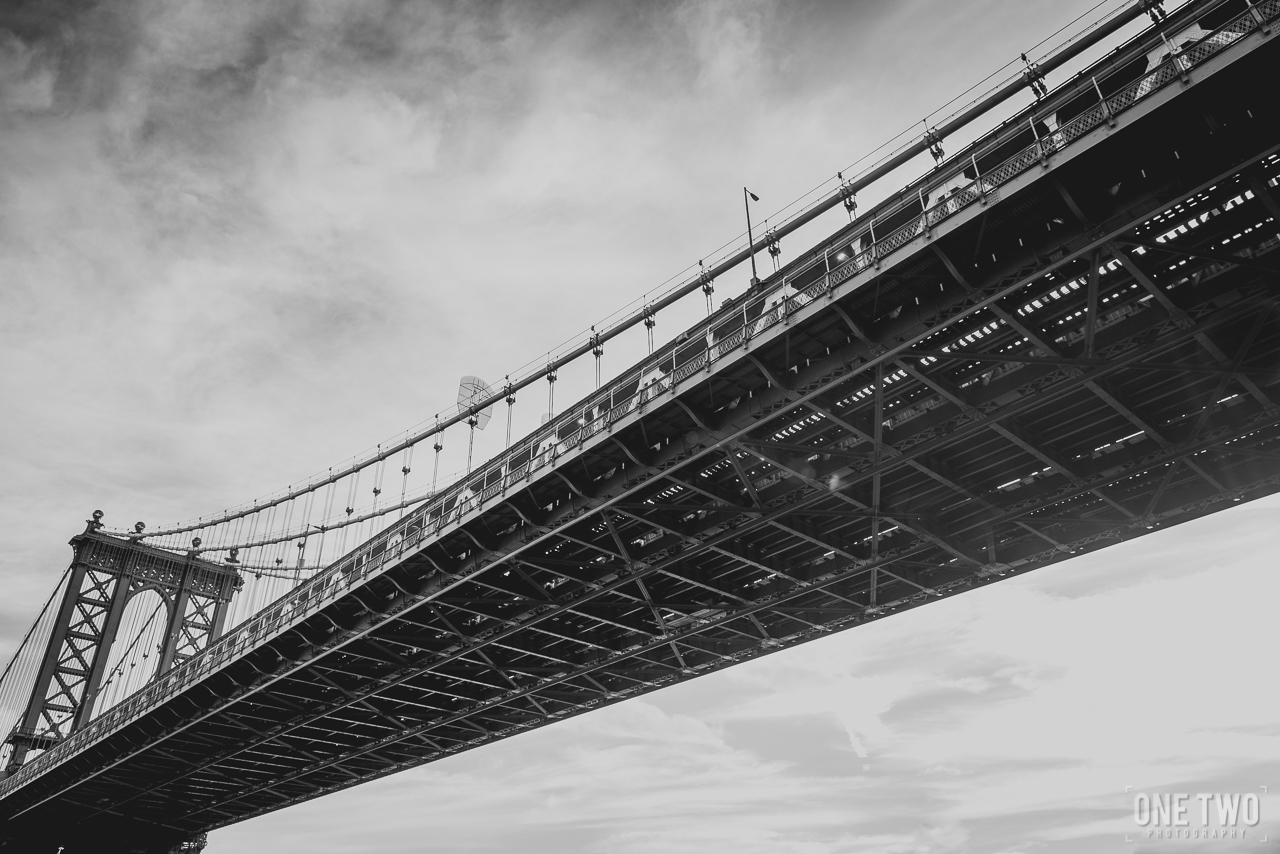 Prior to leaving I made a shot list of places I wanted to see and capture: pretty much all the obvious tourist spots.  I'll go over a few of these, my goals and how I achieved my results.
The Famous Flatiron Building
On the first day we boarded a hop on hop off bus.  For those not familiar with the term, they are buses with open roofs and about two dozen tourists looking skyward. We started out by Times Square and headed downtown along 5th Avenue.  Suddenly we came upon the famous Flatiron Building.  This is obviously a very well photographed building and I wanted to capture a unique and creative angle, however, I was on top of a bus and couldn't get off.  I was lucky enough to get a red light which gave me enough time to get a good head on shot. A creative edit would have to be the way.
Once in Lightroom, I went about my workflow which often includes trying a few different looks.  I couldn't decide between color and black and white.   With the color image I added a bit of a copper look to really emphasis and bring out the limestone facade.  I also added lighting effects to bring out the sunshine coming from the left and toned down the blue sky into a more pleasing pink to warm up the overall look of the image. 
The Busiest Intersection In The World
 The thing with New York, if you've never been there, is when you actually set foot around all these famous locations, you're kind of in awe and end up taking tourist shots. You have to take a moment and step back to think about your shot.  Once that feeling at Times Square diminished I thought of how I wanted to capture the moment.  When we began the bus tour I had my versatile 24-120 as I wanted the options as we rolled through the city.  So, I got my tourist shots with this lens, and when I returned at night, I had my 14-24 wide zoom because I wanted a lens to capture the essence of the space:  the sheer size of it with buildings on every side towering up while throngs of people congregate below.  It's very surreal as even at 2 in the morning the crowds don't let up.  I love how the buildings, due to the wide angle, converge at the top of the frame to give the feeling they are all around you and are closing in which is much the feeling you get standing in the middle of Times Square.
This was the same goal when we visited the Rockefeller Centre  With the sheer size of New York City buildings you'll need a wide angle if you want to the entire building in the frame.   You then have to deal with lens distortion, but sometimes, as mentioned above, it's a creative choice.  I framed this shot as I was standing directly in the front of the building and noticed a beautiful and intricate gold design adorning the front. This was my foreground element as the rest of the building towered above.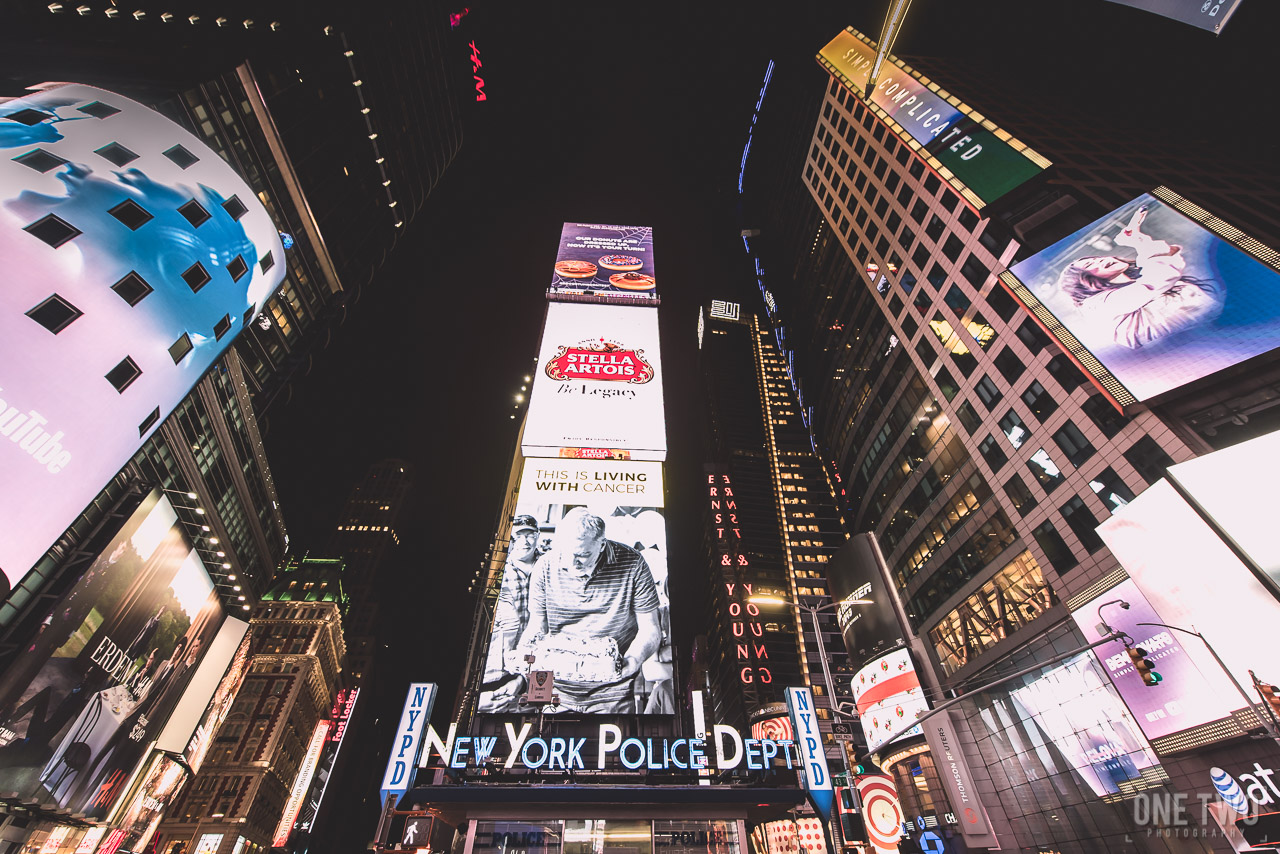 New York Instagram Inspiration
 Sunday's weather forecast called for a downpour of rain.  And this time the weatherman was correct.  It rained all day and all night.  We put our sightseeing plans on hold and went with the flow by visiting a few of the famous New York City museums. My camera stayed quiet for most of the day.  Upon our return to our hotel, we settled in for a short rest before heading out for dinner. As I lay in bed, I was disappointed I didn't get many shots during the day, and as I scrolled through my Instagram feed I noticed tons of amazing shots being taken on this very rainy night. Someone even posted a shot across the street from our hotel.  I was immediately inspired.  I grabbed an umbrella and headed out in the downpour.  Blending in to the surroundings to get good street photography was very easy to accomplish as everyone was hiding under their umbrellas trying not to get wet to even notice anyone with a camera.  The beauty of the wet streets reflecting the many lights of the city increased the ambient light tenfold. I think some of my best shots came that night. And to think I wasn't even going to go out.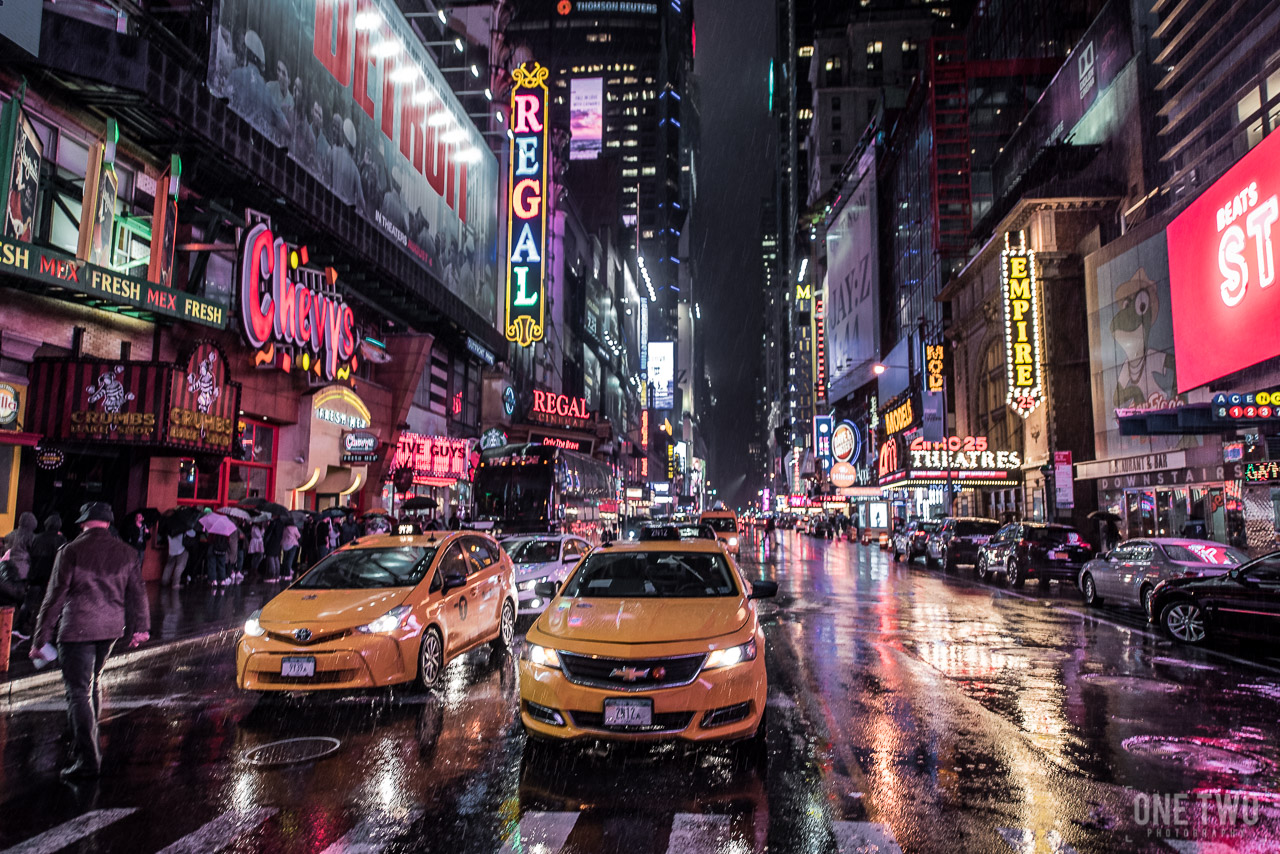 One World Trade Center
The one thing I was looking forward to the most was visiting Ground Zero and the Freedom Tower.   It had special meaning to me being a first responder.  As we walked up to the site, a certain level of grandeur fell upon us. It was an overwhelming feeling standing on the very spot where the most impactful event of my generation occurred. My parents' generation all remembered where they were when Kennedy was assassinated. 9/11 was my generation's moment. After touring the ground and the memorial pools, I was a bit taken aback by the lack of compassion from most people. I found a lot of people to be happy and joyful while taking selfies.  It wasn't the somber atmosphere I had expected.   I guess there is a bit of controversy, we are indeed standing on the gravesite of thousands.  However, should we mourn forever? Or let life live on once again on the site.  The designers of the grounds have done a remarkable job of ensuring the latter, from the pools to the oak trees, pathways and park benches, New Yorkers and the world have retaken the site.
While visiting the 9/11 Memorial Museum I was lucky enough to speak with several first responders who were there that day.  They assured me working at the museum was like therapy and no longer a source of painful memories.  They shared their amazing stories with me and even injected a bit of humor as any cop would. The museum itself was overwhelming with countless number of artifacts and exhibits that both tore at your heart strings and captured the immensity of the event.  It definitely left an impact on me.
Check It Off The Bucket List
 A lot of people have bucket lists these days. I was never one for the idea but I always had one thing I wanted to do, fly in a helicopter.  I've come across a few helicopter tours here in Toronto and Niagara Falls but never pulled the trigger.  But now that I was going to New York City, what better place to knock that off the list. I booked a 20 minute tour departing from the Manhattan heliport. Full disclosure, I'm afraid of heights, however I love flying.  Weird. So, I always had mixed feelings about helicopters.  I was excited but nervous at the same time. So as I sat in the hanger waiting for my ride, I was overwhelmingly excited and nervous.   I was also nervous about where I would be seated.  The tour was for six people, and they seat people based on weight, so there's a chance you can be seated in the middle.  I definitely didn't want my first helicopter experience to be looking over someone's head.  As I was ushered out toward the helicopter, the attendant ushered me to the front of the aircraft next to the pilot.  I was sitting in the front seat, a full windshield view to the front, window to the side and yes, window at my feat.  This elevated my nerves but I didn't have much time to dwell on this as the pilot quickly took off. Within seconds we climbed into the air.  The ground was disappearing beneath my feet, my fear of heights along with it.
We headed south over the East River towards Ellis Island and the Statue of Liberty. It was quite the sight to see her at that angle.  From there we climbed even further and headed up the Hudson.  I was surprised as to how agile the aircraft was.  As we headed north back towards Manhattan I was met with an amazing view of the famous lower Manhattan skyline.  One World Trade, where I had been a few days ago, gleamed in the sunlight and didn't seem as tall from this view, but magnificent just the same.
We headed up the Hudson and I was captivated by the view as we went by all the popular New York City attractions: Battery Park, the World Trade Center, Central Park, Columbia University, the Empire State Building, Yankee Stadium, and the George Washington Bridge. Once up the river we made a turn and sadly headed back down river.  I made sure to take in all the views one last time, getting a great view of the Empire State Building.  From this view it appears majestic and isolated on it's own without the clutter of other skyscrapers.

Book your own flight with Viator here.  I found them to be very professional and friendly.  My next visit I plan to be flying with FlyNYON which is a doors off flight, perfect for photographers.